PROVO – As we anxiously count down the days until the contact period opens up, it's time to get an early (and I mean way too early) look at the 2017 BYU football roster. Why not right?
After all, signing day is only a month away and spring football is about two and a half months away. Those events will be here before you know it. So why not get an early rough draft of how the BYU roster will take shape?
BYU has a tall order in front of them in 2017 to try and replace the school's all-time leading rusher in Jamaal Williams. How will they replace the Swagdaddy's production? Here are the guys who will try and do that.
RUNNING BACKS
Lost: 2
Jamaal Williams (Graduated)
Algernon "Algie" Brown (Graduated)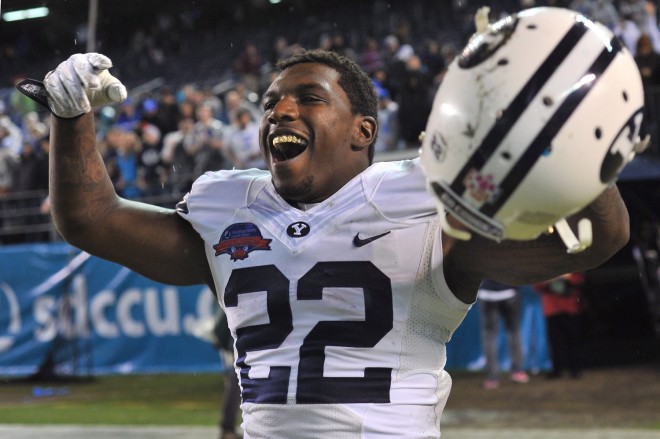 * = Redshirt has been used
Scholarship players returning in 2017
Squally Canada, Junior*
Canada will be the early favorite tabbed to be the starter in replace of Jamaal. Canada and Williams were good friends at BYU and Williams took Squally under his wing to teach him all he knew. Now the student has to show what he learned. The question for Squally, is he a feature back? Can he be the bell cow back that gets 15-25 carries a game like Williams was in 2016?
Canada has gained the trust of coaches after struggling in his first spring ball under Reno Mahe by fumbling the football. Ball security will continue to be something that is stressed with Canada who has a lot of that slipperiness that made Jamaal special his senior season.
Trey Dye, Junior*
Dye redshirted in 2016. What type of role should we expect from Dye out of the backfield in 2017? Passes out of the backfield would be my guess. I can't imagine that Detmer is going to call runs up the middle for Dye. Like his father, Dye has athleticism, get him out in the open field to make plays. That's where he can thrive, but he also needs a consistent role every week to find his rhythm. One play here or one play there won't give Dye the opportunity to find success at BYU. He could be a contributor in 2017.
Riley Burt, Sophomore*
Burt is an intriguing prospect. The Box Elder native has a track and field background and anytime he touched the ball in his true freshman season, good things seemed to happen. He will push Squally for the starting role and has the talent to potentially win the job.
Notable walk-on's
KJ Hall, Sophomore*
Hall burst onto the scene against Southern Utah and UMass during the light November home schedule. I wouldn't expect Hall to be in the conversation to be starting at running back anytime soon, but for a walk-on, he brings great value if he's BYU's third or fourth running back. There's enough trust that he will see time during games next season.
Brayden El-Bakri, Junior* (Fullback)
El-Bakri will be BYU's starting fullback next season and that's not a bad thing. El-Bakri has great hands to catch the ball out of the backfield (go watch the SUU game as evidence of that), he's an option to carry the rock in goal line packages, and like you would expect from a fullback, he's willing to lay the hit stick in the blocking department.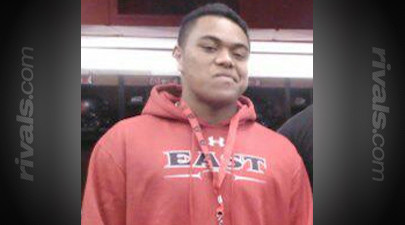 New face on the block
Ula Tolutau, Freshman
While a prep star at East High School in 2014, Tolutau signed with Gary Andersen and the Wisconsin Badgers. Tolutau served an LDS mission and then returned this past November. Obviously, a lot had changed at Wisconsin as Gary Andersen was no longer there. He, of course, is the head coach at Oregon State. Tolutau had a strong relationship with Kalani Sitake during the recruiting process while Sitake was at Utah.
Tolutau is a terrific talent. He won't count towards BYU's class of 2017 recruiting rankings, but if he did, he'd bolster BYU's class quite a few notches on the rankings. In Tolutau's senior year at East, he averaged whopping 12.7 yards per carry. Yeah, you saw that right. 12 yards a carry. His senior season he had 195 carries for 2,465 yards and ran for 31 touchdowns.
Tolutau will be enrolled in January at BYU and has an opportunity to compete for the starting job right away. BYU beat out Utah, Oregon State, and Utah State to land him this go-around.
RB's on the 2017 recruiting trail
Along with Tolutau, BYU is expected to sign Lone Peak High School star Jackson McChesney who has never budged from his commitment to BYU since pledging to the Cougars while Bronco Mendenhall was the head coach in 2015.
Mitch Harper is the Publisher of CougarNation.com and is also the host of a daily BYU podcast called Cougar Center available on iTunes, Audioboom, and 1320 KFAN.
Click here to read full story »