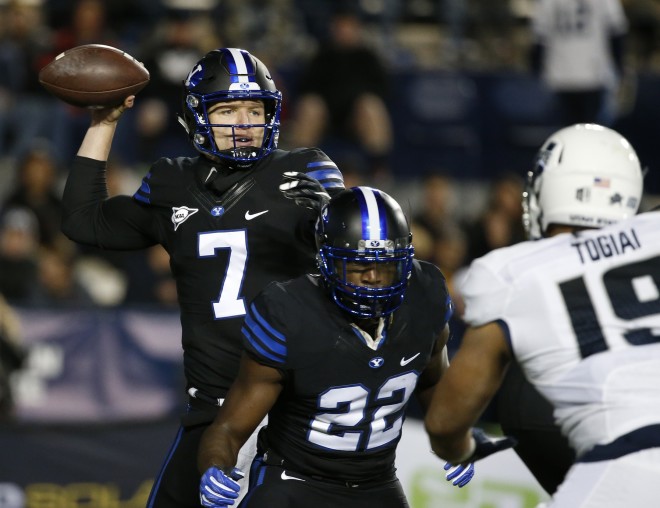 PROVO – BYU quarterback Taysom Hill suffered a gruesome injury to his left elbow on Saturday night against Utah State. If you're wondering, yes, Hill suffered his third injury in Provo against the Aggies, crazy how that happens.
It was announced today that Taysom Hill is out for the remainder of the season and will not play in the Poinsettia Bowl.
It's unfortunate to think that it will end with an injury and prevent Hill from yet another bowl game appearance. He only played in one (2013 Fight Hunger) bowl game as a Cougar.
A cursed career by injuries, but when healthy, Taysom Hill had some incredible moments. Here are some of the best.
Stanford's no January enrollee rule
Taysom originally committed to Jim Harbaugh, Lance Anderson, and the Stanford Cardinal out of Highland High in Pocatello, Idaho. Taysom left to serve an LDS mission after graduating from Highland and when he returned Stanford informed him that they do not accept January enrollees, which was news to Taysom. Hill reached out to Bronco Mendenhall and Brandon Doman about joining the BYU football program and instantly, he had a scholarship with the Cougars.
Hill was a three-star QB prospect here on Rivals.
Stanford
Pocatello
RR: 5.6
Ht: 6'2.0″
Wt: 210.0
Class: 2009
Commitment status:
signed
First TD against Washington State in 2012
There was a lot of buzz about Hill as a freshman in the fall camp of 2012. Offensive coordinator (at the time) Brandon Doman was raving about the future prospects of Taysom who as a freshman was already pushing for second-string QB spot ahead of senior James Lark.
In his first college game, Taysom threw a TD pass to Kaneakua Friel against Washington State. After completing that pass, you could see how happy Hill was with that moment and being at BYU as a whole.
Glimpse into future against Boise State in 2012
Starting quarterback Riley Nelson was battling through a back injury that would affect him the entire 2012 season and BYU's offense was sputtering against a top 25 Boise State defense on the blue turf.BYU turned to Taysom and he led the Cougars down the field for their lone TD in the game.Cougars failed to convert the two-point conversion, but it was in that game that you saw the talent that lied ahead in Taysom Hill.
259 rushing yards against Texas
After a shocking loss to Virginia on the road, game two of the 2013 season saw BYU's new go fast, go hard offense produce a record rushing performance in Provo against a ranked Texas Longhorn squad.
Taysom Hill became a national name in the college football world after rushing for 259 yards en route to a 40-21 victory over the Horns.A game that likely sealed the fate of Mack Brown's future in Austin, and cost defensive coordinator Manny Diaz to get fired the following day.
Shootout in Houston
Probably the best all-around game of Taysom Hill's career came in 2013 against the Houston Cougars at Reliant Stadium.Hill tossed for 417 yards and then ran for 128 yards.But Taysom's passing performance is what stands out as he led BYU on a game-winning drive in the final minutes to find Skyler Ridley for the game-winning touchdown to take down the Coogs 47-46.
The Hurdle in Austin
Going into the 2014 game between Texas and BYU, the Longhorns were treating that game as one of the most important of their season. Texas safety Quandre Diggs said going into the 2014 contest that he was still embarrassed from the 2013 game.
Diggs became even more embarrassed after BYU rolled into Texas and humiliated the Longhorns once again coming away with a 41-7 victory.
The most iconic moment of the game and the play that will define Taysom Hill's tenure at BYU is his hurdle over Longhorn defensive back Dylan Haines in the 3rd quarter that led to a touchdown score. The Cougars never looked back from there.
That play and that win put BYU in the national conversation to the likes of which they had not seen since defeating Oklahoma in 2009.
Comeback announcement for 2016
After suffering a Lis franc injury against Nebraska in the season opener of the 2015 season, it was hard to picture at that time Taysom Hill returning to BYU for another year. But Hill shocked everyone and turned down offers from numerous colleges, job opportunities, and even the NFL to have another shot at playing college football for BYU.
It was a special moment for Taysom and a huge coup for Kalani Sitake and Ty Detmer to have Taysom come back for one more year.
#Cougarnation I want to thank you for all of your love and support and let you know I am coming back to BYU for one more year!! #2016 #fam

— Taysom Hill (@T_Hill4) February 16, 2016
Fourth quarter against Michigan State
There are only two quarterbacks in BYU history that can say they won games at Big Ten venues in their careers for the Cougars. Those two quarterbacks are Jim McMahon and Taysom Hill.
After starting the 2016 season 2-3, entering East Lansing as a touchdown underdog Taysom led BYU to a dominating victory over a Spartan squad that was only one year removed from the College Football Playoff.
The fourth quarter where BYU pulled away from the Spartans showed the "Taysom of old" out there as he was dealing both on the ground and through the air.It highlighted why Hill came back in the first place.
Hill ranks among the greats in BYU history.
Recently on a Cougar Center Podcast, I gave my personal list of the top 10 quarterbacks in BYU history. The main question was would Taysom be in that top 10? In my opinion, Taysom definitely deserves a place among the all-time greats in BYU quarterbacking history.
1. Jim McMahon
2. Ty Detmer
3. Max Hall
4. Steve Young
5. John Beck
6. Marc Wilson
7. Steve Sarkisian
8. Taysom Hill
9. Gifford Nielsen
10. Robbie Bosco
Mitch Harper is the Publisher of CougarNation.com and the host of the daily Cougar Center Podcast available on iTunes. Follow Mitch on Twitter: @Mitch_Harper.
Click here to read full story »