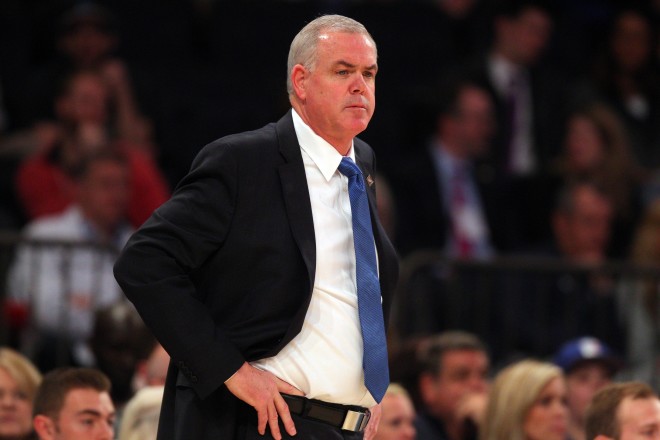 PROVO – As the clocked ticked towards zero at the Marriott Center this past Saturday afternoon, much of the crowd dressed in BYU attire was silent and heading for the exits after witnessing the worst loss in the 45-year history of the building. BYU lost 114-101 to Utah Valley University.
Upsets happen in college sports, especially college basketball, a sport that has hung its hat on Cinderella shocking the world. Well, Cinderella was dressed in Wolverine Green on Saturday and it shook the core of the BYU basketball program.
BYU head coach Dave Rose is searching for answers for a team that he had been anxiously waiting to see on the floor together the past five years. Those five years that Rose waited for Nick Emery and T.J. Haws after the two committed to the Cougars, equal more than a third of UVU's existence at the Division 1 level in hoops.
There was a time when Utah Valley was not a university. In fact, it wasn't a university until 2003 where Utah Valley then became known as UVU. Prior to 2003, UVU was a junior college known, as Utah Valley State College and they were the home for football signees who needed to get their grades up. UVSC also fed former BYU basketball head coach Steve Cleveland a few players, most notably the Michael Jordan of Russia, Travis Hansen.
Hansen signed with Steve Cleveland and BYU 17 years ago this month, and now that school less than two decades later who was once feeding BYU hoops JUCO transfers and getting future gridiron stars eligible, is now taking down the Cougars in historic fashion and they did it with a handful of players that BYU moved on from (Isaac Neilson) or didn't feel was good enough for their program (Conner Toolson).
Everything Dave Rose thought he knew about this team goes out the window after a loss like that. Rose and his staff have to start from phase one again with this team, and it might be necessary for a squad that likely felt they could just show up and win against teams like UVU. Case in point, Nick Emery's comments after Saturday's loss.
"We are a bunch of wusses out there right now, and it is not how you are going to win games. We can't put this BYU jersey on and think we are going to win games just because we are BYU. It takes a lot more than that."
Senior forward Kyle Davis shared similar sentiments stating that the Cougars need to get back to the basics on the defensive end.
The defensive end has been BYU's shortcoming since joining the West Coast Conference in 2011.BYU again this season boasts one of the nation's best offenses, but the defensive end has disappointed. Last year, and in a few games against cupcake teams, there were some improvements.But any progress that the Cougars that has taken place since assistant coach ("defensive coordinator") Quincy Lewis since arrived last season went out the door after Saturday.
Dave Rose: "A real issue with our team the last two games is keeping our composure." #BYU pic.twitter.com/Mniw68NjrT

— Mitch Harper (@Mitch_Harper) November 27, 2016
Where do they improve? The composure for starters has to be held in check. BYU has a lot of talented players on this roster, and most of them have never experienced adversity. The lack of composure from Rose's squad has negatively affected the outcome the past two games.
The effort level has to improve on the defensive end as well. When BYU goes to a zone defense, it's a liability and if they are stuck in a man-to-man defense they don't have the athleticism to keep up with most guard lines in the country.
That ex-UVSC and BYU star Travis Hansen isn't walking through that door to lock down an opponent's top scorer, and Nick Emery is just not in the same stratosphere on the defensive end as his older brother Jackson. No one expected him to be the defensive star that Jackson was, but BYU sorely lacks a shutdown player on the guard line. Even a Charles Abouo would be just what the doctor ordered for this BYU team.
For the first time since Jimmer's senior year in 2010-11, there were pre-season expectations for BYU hoops. Maybe the expectations were too much for a collection of talent that is as talented as any BYU team ever assembled as they still try to gel and get familiar playing with each other.
The expectations have been lowered at this point after Saturday's loss and now the Cougar Cagers can get back to work and focus on the basics. A serving of leftover humble pie from Thanksgiving might be what this BYU team needed.
Dave Rose has probably the most difficult coaching job ahead of him this season to try and maximize the potential and talent of this roster to deliver Championship level results. It can still happen for this BYU team because they have a future NBA player in the post with Eric Mika and star power in Nick Emery.
But the message was clear Saturday afternoon that despite all the talent, the Cougar Cagers have yet to arrive and now the focus shifts on the basics and getting back on track.
Mitch Harper is the Publisher of CougarNation.com and is the host of the daily BYU podcast, Cougar Center. Follow on Twitter: @Mitch_Harper.
Click here to read full story »